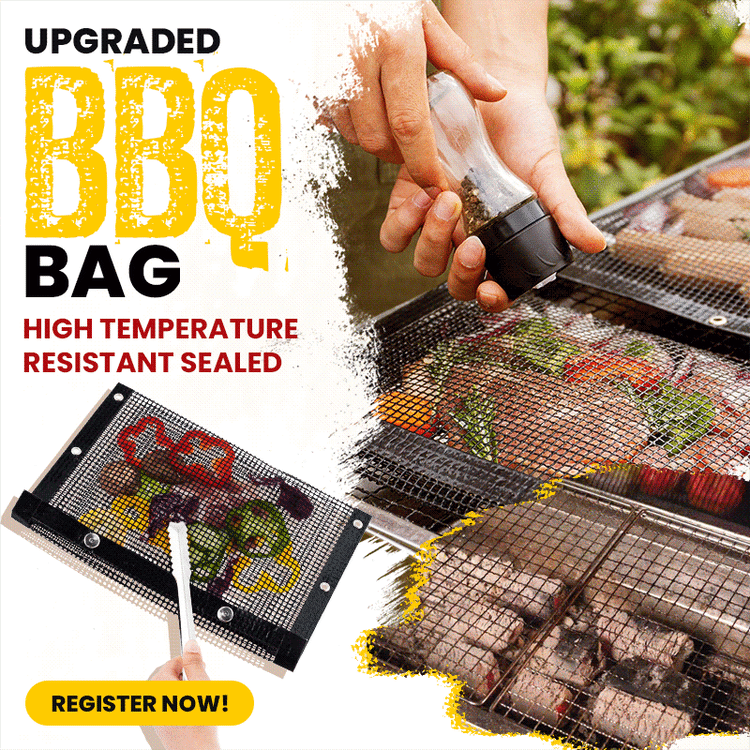 Make your delicious Barbecue meal in an EASY way!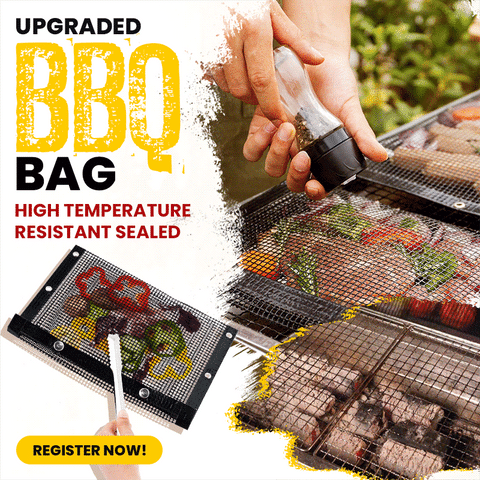 Sealed BBQ Bag stores multiple foods in the same bag for efficient grilling - you can FLIP AND HEAT ALL the food on the other side at once.
Simply place the ingredients in the bag to ensure that no more tasty treats fall through the grill.
Main Features
? EFFECTIVE PROTECTION OF INGREDIENTS
Traditional barbecue bags are glued together and

the heat will dissolve the glue at the opening

and the food inside will fall out.
This is an improved version, which solves this problem by using metal clasps to securely fasten the opening.
? MAKES SEASONING AND TURNING EASY!
Makes grilling a breeze, making it easy to season and turn, without worrying about food sliding down the grate, so you and your friends/family can enjoy all the goodies.
? HIGH-TEMPERATURE RESISTANT MATERIAL
Made from strong PTFE, they are safe, non-toxic and heat resistant, hard-wearing and corrosion-resistant, non-stick and easy to clean, dishwasher safe and reusable. Enjoy 360° cooking with EVEN HEAT!
⚠ However, although they can withstand a lot of heat, please ensure that they are placed on a shelf above the fire and not directly in an open flame.
? EASY TO USE
Instead of using a metal rod that can hurt your fingers, put the ingredients in a roasting bag. Then fasten the clasp and throw it on the grill. Enjoy the deliciousness!
Specifications
Product Weight

Sealed BBQ Bag (M): 93G
Sealed BBQ Bag (L): 171G

Product Size
(L x W x H)

Sealed BBQ Bag (M): 20× 30× 1cm / 11.8 × 9.4 × 0.4inches
Sealed BBQ Bag (L): 30× 40× 1cm / 18.9 × 12.6 × 0.4inches

Package Contents

Upgraded High-Temperature Resistant Sealed BBQ Bag × 1

Size
M - 20*30CM, L - 30*40CM
Note
Due to manual measurements, please allow slight measurement deviations.