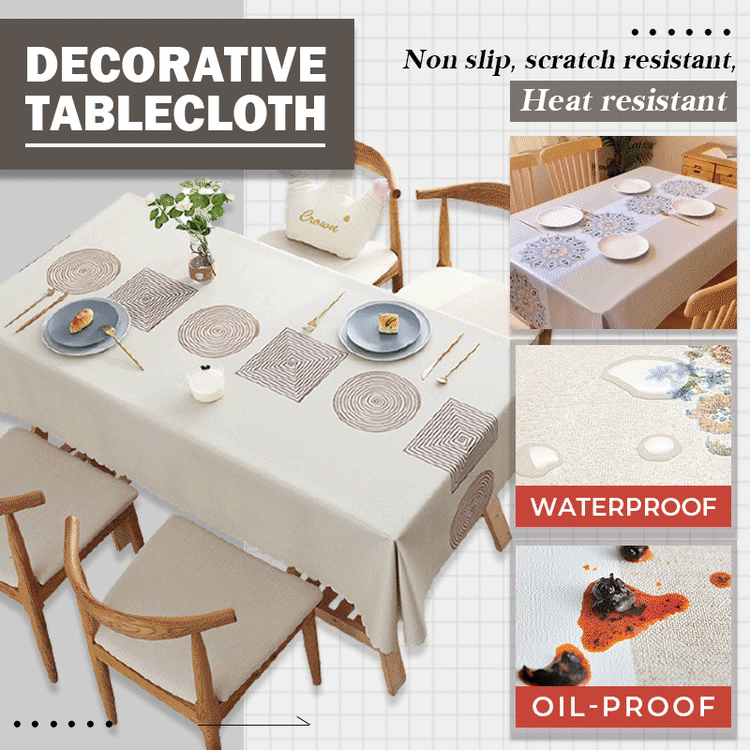 Have you ever been bothered by non-removable stains on your table?
Have you felt depressed because there is a scratch on your newly bought perfect table?
Our tablecloths will not only help you solve these problems but also add some extra bonus. The elegant table cover is a wonderful decoration on the dining table.
 It can bring warmth to people, and it is also a reflection of the exquisite taste of life.
Try to imagine, having a delicious dinner with a loved one around the dinner table with a beautiful table cloth, how happy it will be!
Main Features
DIVERSE CHOICE
A sturdy PVC table cover will blend in with any décor and can dress up an old table. Different colors and sizes match different styles of your furniture create a warm and festive setting for everyday use!
MATERIAL
This beautiful and elegant table covering with an embroidery pattern, crafted of premium eco-friendly PVC thick materials, which drapes very well but also gives you superior strength and durability.
DURABLE
Flower tablecloths keep dust off and protect your kitchen dining table from dents, chips and scratches; Non-slip, Heat resistant, 100% waterproof, oil-proof, stain-resistant, liquid such as milk, coffee, soy sauce and juice will all bead up with no leaks, can last for a longer term with daily use.
EASY CARE
The wrinkle-free tablecloths rectangle can be easily wipe cleaned with a damp cloth, sponge or napkin. NOTE: NO Iron, NO Bleach, NO machine wash, NO using the dryer.

Usage Scenarios

The exquisite and fashionable holiday table cloth is

 

great for various occasions: kitchen tables, dining tables, picnic camping outdoor, BBQ, buffets, banquet, parties, weddings, hotels, restaurants, baby shower. It can also be a good choice as a gift on Thanksgiving, Christmas, and Valentino Day.
Specifications
Product Weight

394G / 296G / 499G / 709G / 709G

Product Size
(L x W)

80 × 12cm / 90 × 90cm / 90 

× 140cm / 120 × 180cm / 140 × 140cm

Package Contents

Waterproof And Oil-Proof Decorative Tablecloth × 1

Material
PVC